When an idea becomes a reality, it's a win-win! A recent project came about when Marcy Wolcott, LIVES Teaching Assistant, shared an idea for LIVES students to compose and illustrate a book that would feature elementary students. LIVES student Kailin Footer had been interning in Sarah Wilcox's first-grade classroom at Geneseo Elementary School for several months, and when both were approached with the idea, everyone knew it would be welcomed from cover to cover.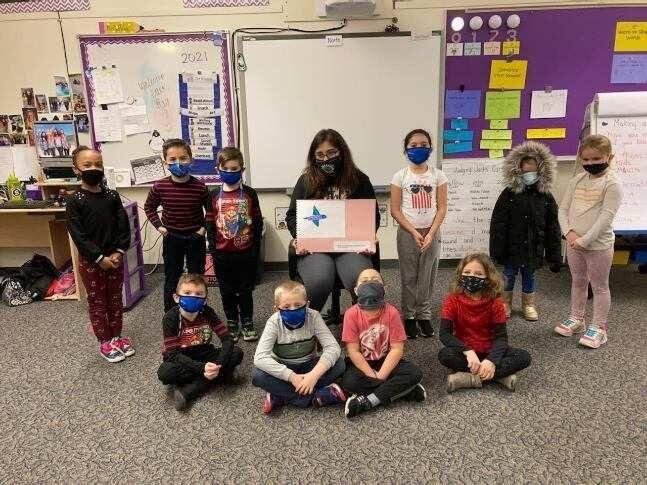 The LIVES (Learn Independence, Vocational and Educational Skills) Program is a four-year transitional program located on the campus of the State University of New York College at Geneseo in collaboration with the Genesee Valley BOCES. Students, ages 18-21, with intellectual and/or other developmental disabilities, are provided with an inclusive educational community. Due to the pandemic, this school year, this program is set on the Genesee Community College Campus, located in Dansville, New York.
"We thought this might be a good idea to present to the class and believed that this would be a great way for our class to connect with these first graders. It was a fun project," said John Schnitter, LIVES Instructor.
             In December 2020, LIVES students began the process of writing the book and creating artwork to correspond with each page. The title of the book is "Spread Your Wings with Positive Things." Each student in Wilcox's class is featured in the book as a different character, some type of animal that has wings, which includes birds, bugs, and flying fish. LIVES students illustrated the book and also wrote the text that corresponds with each drawing.
             This project took several weeks to create and some LIVES students crafted multiple pages. They sketched out their concept, added some color, and drafted their text. Wolcott typed up the manuscript. LIVES students crafted their pages which were then bound into a book. Wilcox shared how Kailin assisted with the first-grade students.
             "Kailin volunteered in our classroom for approximately 10 weeks. She took on the role as an aide to me and was a support person for students. She practiced sight words, read books, and helped students cut and glue projects related to reading and phonics. She would mostly work one-on-one with students," Wilcox said.
             Once the book was completed, Kailin made a surprise presentation to the class.
             "The students knew that we had planned a celebration for Kailin as a thank you for her help. The morning of the presentation, I let students know what was going to be happening, both the students attending school in-person and the remote learners," Wilcox shared.
             Excitement filled the air in the classroom as Kailin read the book to the in-person and remote first graders. Students waited for her to read each page as they listened for their name to be read.
             "I felt good reading the book that my class made for the kids. The students' responses were great; they all loved the book. I really enjoyed working with all the younger students in the elementary school," Kailin said. "My favorite part about being in a class was working with the younger students."
             "Kailin's reaction was great, she was so pleased to share this book with the first graders. Our class was able to watch via Zoom as she read the book," Schnitter said.
             Wilcox commented on how the book was received by the students. "Without planning it, some of the animals that the LIVES students picked to write about are some of our favorite classroom animals. When Jack's name came up in the book as a flamingo it was a fun coincidence. After the story was over, everyone agreed Jack had to wear Pinky (the flamingo) and take a picture with Miss Kailin and the book," Wilcox shared. "Every page she turned had the students hanging on to find out which student would be featured. Even after their names had been read they were just as excited to hear their classmates' names."
             The LIVES Program incorporates a college course schedule, with student internships, employment training and readiness, and community service opportunities. Kailin's internship in Wilcox's classroom was an example of work experience as both the first-graders and Kailin were the true benefactors.
             "The first month of school is built around creating a classroom community and building trust - it's something we as teachers work at every day. Kailin came into our classroom and gained the students' trust so quickly and I think it really speaks to her ability to connect with others," Wilcox said.
             Schnitter echoed Wilcox's thoughts and also shared how cooperative learning opportunities like these have cumulative effects.
             "Last school year before the pandemic hit, the LIVES students were able to visit classrooms at Geneseo Elementary and read books to small groups of these young students. This laid the groundwork for Kailin's internship. Our LIVES students learned much from this project; how to inspire and bring joy to others," Schnitter said. "It was very meaningful to our LIVES students, and especially Kailin, to witness the students' reactions to the book."
             The LIVES (Learn Independence, Vocational and Educational Skills) Program is a program of the Genesee Valley BOCES. GV BOCES operates as a Board of Cooperative Educational Services offering shared programs and services to 22 component school districts located in Genesee, Wyoming, Livingston and Steuben counties in New York state.