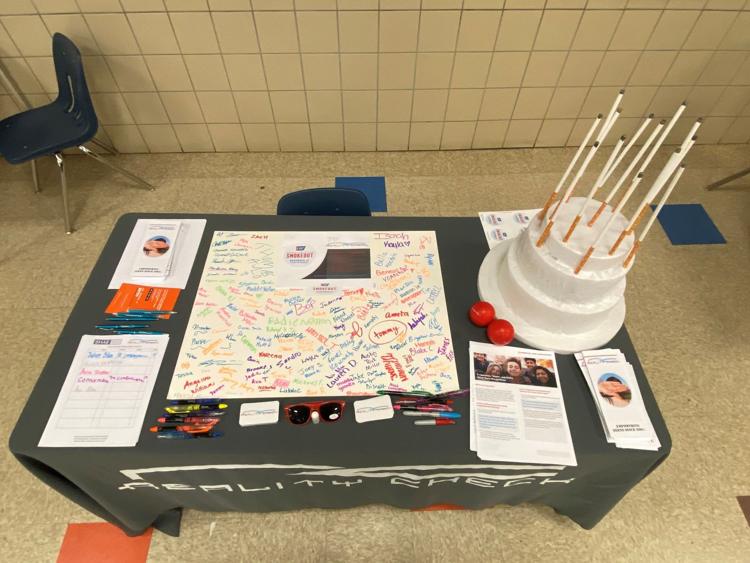 Local youth educate about tobacco and e-cigarettes use and marketing aimed at kids to mark the Great American Smokeout.
The average age of a new smoker in NYS is 13.
Local youth in Monroe County at Brighton and Greece Arcadia High Schools demonstrated their concern about youth tobacco and e-cigarette use and marketing that targets kids. The 9th-12th graders held hand-made posters with such messages as:
          • The average age of a new smoker in NYS is 13
          • Stores near schools contain 3x the amount of tobacco promotions. The more kids see tobacco, the more likely they are to start smoking
          • Nearly 40% of high school seniors in NYS are using e-cigarettes
          • 27% of high school students in NYS are using e-cigarettes
          • 64% of high school e-cigarette users use mint or menthol flavors
          • 70% of teens report that flavors are the reason they use e-cigarettes.
Local Reality Check members and students focused on educating their peers and staff on the average age of a new smoker being 13 years old and the history of the Great American Smokeout.
The American Cancer Society Great American Smokeout is an annual event that encourages and offers support to people to become or remain tobacco and nicotine free on the day of the event—the third Thursday in November each year. By quitting—even for one day—people will be taking an important step toward a healthier life and reducing their cancer risk. This year, the Great American Smokeout took place on November 21, 2019.
Follow the work of Reality Check and learn about future tobacco control events at RealityCheckofNY.com and on social media @RealityCheckofNY
Reality Check is a New York State youth-led, adult supported group that works to counter the deceptive marketing practices of the tobacco industry and the effects of tobacco marketing on youth.  Reality Check youth work to expose the truth about tobacco industry advertising and promotion, and to reduce the burden of tobacco-related disease and death in their communities.