On May 23, the Genesee Valley Educational Partnership (GVEP) recognized five of its outstanding students at the first BOCES Signing Day. Held on the Mount Morris Campus, as its sister signing event was on the Batavia Campus, Signing Day welcomed students, businesses, Career and Technical Education (CTE) instructors, district officials, family, community members and the press.
                Each student signed their names across from their respective employers on the official BOCES Signing Day decree. GVEP's Mount Morris Campus Executive Principal, Matthew Flowers directed the proceedings, giving each student a GVEP t-shirt, reminiscent of sports team signing jerseys. Flowers congratulated students on their achievements, saying that they are what makes education special for the instructors as well as for himself as a principal.
             Flowers concluded by thanking those present, including board members, administration and district representatives and also business members, saying, "Thank you for having the faith to employ our students right out of school. You come in, and you allow us to come to your shops and businesses, and without you, we couldn't make this happen."
2019 BOCES Signing Day Recognized Students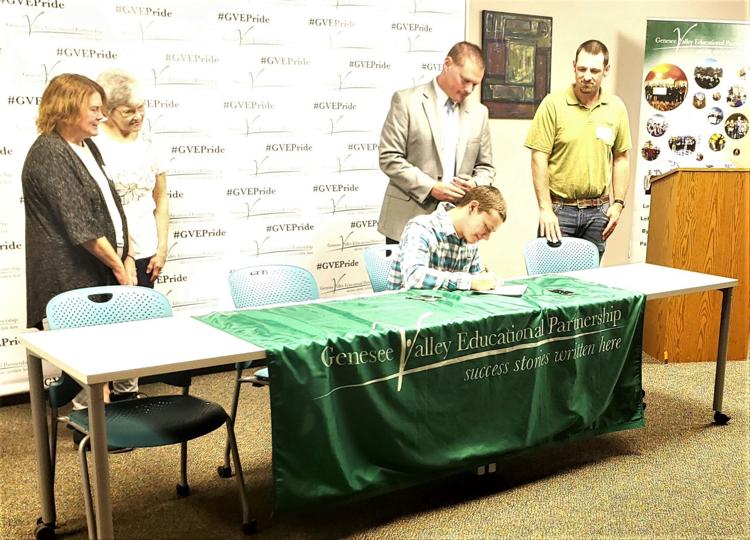 Charles (C.J) Hunt: Conservation, Wayland-Cohocton — "CJ is a model student but humble, as well," said Hunt's Conservation Instructor, Schuyler Daugherty, also representing Rogers & Tenbrook. "He doesn't ever brag or boast. He is a true, quiet leader who works really hard at his academics." Daugherty explained that the Conservation and Heavy Equipment program was challenging, requiring students to learn a little bit of everything. "He is going to be successful in all that he does," stated Daugherty. "He is such a mature, young adult who is driven and really wants to succeed. It shows in all that he's done and the scholarships he's been offered." Hunt is also working toward attending Alfred State for auto tech classes. Signed with Rogers & Tenbrook, Dansville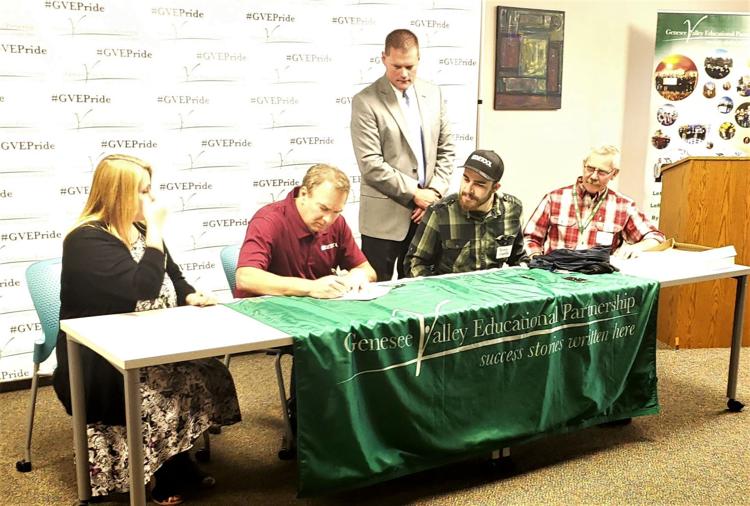 Graig Plaatje: Metal Trades, Avon – "Graig always asks questions," observed Plaatje's Metal Trades Instructor, Olie Olson, who described Plaatje as self-motivated. "We were talking about internships with DP Tool, and he told me that he needed his paperwork [for it]. He took the initiative." Garland Beasley, DP Tool Director of Operations, and Kim Hartford, DP Tool HR Manager, were also present. Beasley said, "We are not the easiest shop to get into, and we are known for our quality of reputation." However, Plaatje stood out. "We have a welder who has been there 30+ years. He is the best welder I have seen in my 30+ years, and he endorsed this young man," Beasley recalled.  "Also, Graig came in during his break to do his internship…gives up his break to work in our shop. That really displayed about how much he wanted this." DP Tool also brought a draft shirt and hat for Plaatje. Signed with DP Tool, Inc., Avon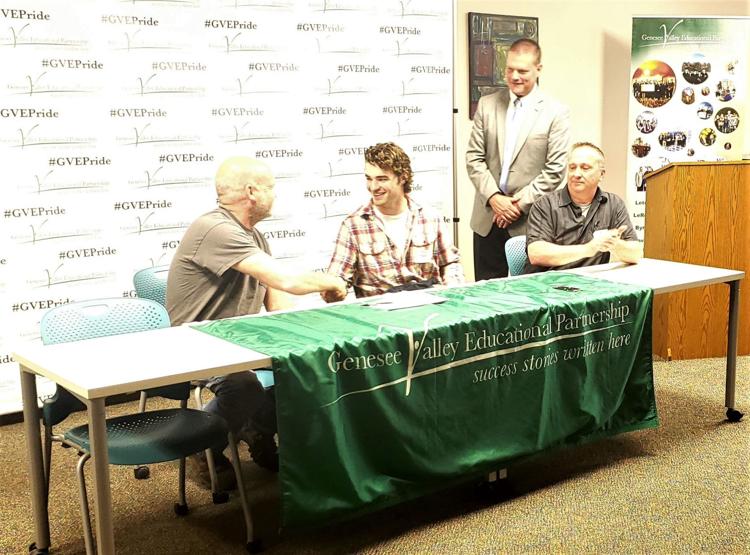 Ben Snell: Custom Collision and Restoration, Perry — "I can't say enough good about Ben," said Custom Collision and Restoration instructor, Mike Young, crediting Snell's parents. "He is polite, respectful, and he treats others well. He is hardworking, too." Young described the variety of specialized skills required in the autobody repair field, noting that these difficult skills take years to master. "Ben picks them up faster than anything we have ever seen," Young said. "You only have to show him once. He has mastered all the skills." Young particularly recalled Snell completing in a day a project that usually took a week. "I had to find something else for him to do," Young said. Scott Tallman, owner of Tallman Collision, added, "Ben is very naturally talented, and it is very hard to find somebody like that. The program works very well." Signed with Tallman Collision, Silver Springs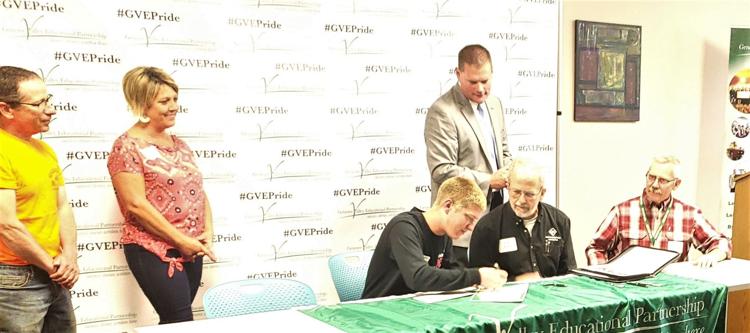 Chandler Stevenson: Metal Trades, Wayland-Cohocton — "Chandler finished as the top student in our regional AWS welding competition held at this campus on April 6, winning prize money and a full scholarship with the Mainliners Welding Academy," said Olie Olson, Metal Trades Instructor.  Chandler competed in the AWS welding competition the previous year, as well, coming in second. "He has a work ethic you don't usually see," said Olson. "He leads by example, and it truly is impressive." Scott Lord, Education Chairman for AWS Rochester and co-owner of WesLor Enterprises and Deloka Powder Coating in Lyons, added, "Our annual welding competition is a very difficult test to take. Three certified welding inspectors judged, and they take their job seriously. They didn't give the students a break. The cream comes to the top, and it is where Chandler sits now." Signed with Mainliners Welding Academy, Houston, Texas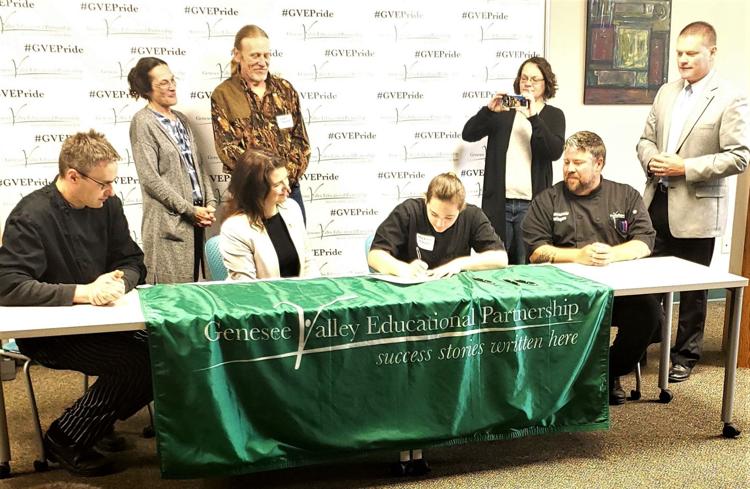 Mackenzie Wheeler: Culinary Arts, Perry — Culinary Arts Instructor, Chef Stephen Kingston praised Mackenzie for her hard work, skill and dedication. Mackenzie has participated in many competitions and catering events including the Cure for Cancer brunch, The Feed the Need fundraiser and most recently, as part of the NASA Culinary HUNCH team. "Not many students can say that they went to NASA's Johnson Space Center to compete in a national culinary contest. Mackenzie can add that accomplishment to her resume. I know that Mackenzie will be successful in whatever she chooses to do," noted Chef Kingston. The Hole in the Wall Restaurant owners', Jacquie Billings Barlow, accompanied by her husband, Chef Travis Barlow, shared how impressed they were when they observed Mackenzie's culinary skills during her recent internship at The Hole in the Wall Restaurant. "She is working side-by-side with me in our new business called Ration Wine Bar," said Billings Barlow.  Signed with The Hole in the Wall Restaurant, Perry
             Have something interesting you'd like to share with our readers? Perhaps an original story, a personal experience, community happening, or school event? Add some photos, and your story will be featured on our popular website for all to see. Who knows - it may even end up in print! It's easy to do. Go to My Hometown to view previously posted stories. To post your own, visit Community at My Hometown today!