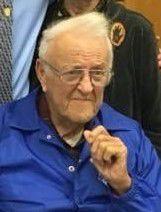 Hemlock, NY: Jim passed peacefully at his home on June 21, 2020 at age 85. He was born on June 27, 1934 in Rochester, New York to the late Kenneth and Grace (Grimsone) Slocum. Predeceased by his brother Robert Slocum and infant sister Linda Slocum. He is survived by his wife of 61 years, Beverly (Miller) Slocum and son Dwight (Patty) Slocum of Canadice; grandchildren, Margaret and Jacob Slocum; brothers, Kenneth H. Slocum and Gilbert Roy (Jenene) Slocum; sister-in-law Myrna Slocum, many nieces and nephews, and dear friends.
Jim lived in Pittsford, NY until 1942 and later moved to Lima, NY. He attended a one room school house on Clover Street for two years and attended Pittsford High School for one year. The family moved to Lima, when he was in the fourth grade, on a farm of 70 acres and it was his first experience working on a farm. Rose Eagen was his teacher at that time. Jim graduated from Lima High School in 1953. During the summer of 1952 and 1953 he worked for a contractor in Henrietta, building national homes. In September of 1953 he went to Morrisville College for two years and majored in agriculture. He graduated in June 1955 and during the summer went back to building national homes. In September of 1955 he enlisted in the US Army along with his classmate Maurice Andrews. They took 8 weeks of basic training in Fort Dix, and then went to Fort Leonard Wood, Missouri for 8 more weeks in the Corp of Engineers, was then shipped to Fort Campbell, Kentucky where he spent the rest of his three years in the Combat Engineers during the tail end of the Korean Conflict. After he was discharged in 1958, he came home and married his wife after 8 years of chasing. After he got married, they moved to Hemlock into a house that was built in the early 1900ís, remodeled it over the years and lived there till he passed.
In Hemlock Jim started to work for the local lumber yard, Bernhardt Lumber He also worked for 3M Company in Honeoye, worked for Ridge Construction, and then started his own construction company, building custom homes, remodeling, and timber column buildings for Agway. He built many homes in the Livonia, Lima, and Geneseo communities. After retiring from building he went to work as a construction consultant, clerk of the works on schools and commercial projects including Livonia School, York School, two schools in the Greece School District, many bridges in New York State and roads in Buffalo and Livingston County.
Jim got involved with Hemlock Fair Association as Superintendent of horse drawn vehicles and was asked to take over as President in 1972 and was president until 2007. During that time he started to go to the state convention in Syracuse and got involved to the point that he was asked to get in line to be president. He became president in 1989 of the New York State Association of Agricultural Fairs and still serves on the Board of Directors. Jim and some other members got the convention moved to the Rochester Convention Center from Syracuse and it is still held there every January. There he was in charge of the trade show with the help of a good friend of the Hemlock Fair Board, until January 2019 when he gave it up. He was inducted into the Associations Hall of Fame in 2010. He also received the Hardeeís Achievement Award in Las Vegas from the International Association of Fairs and Expos. He was still Chairman of the Board of the Hemlock Fair.
He joined the Livonia Rotary in 1972, served as president from 1979-1981 and served on many committees. Jim was the exchange officer for Denmark for years, received the Rotarian of the Year Award in 1985, the Lifetime Achievement award in 1994, had twenty years perfect attendance and was still an active member.
He started his Masonic career in DeMolay and in 1953 he joined the Masonic Lodge in Lima, New York, Union Lodge #45. He Served as Master in 1989 and was Secretary of the Lodge for 18 years. He was Grand Sword Bearer for the Livingston District for the Grand Lodge of the State of New York. Jim received the James E. Lee Award for Masonic Achievement, and served as President and Secretary Treasure of the Grand Lodge Officers of the Livingston District. He joined the Scottish Rite Consistory and became a 32 Degree Mason and has received the DSA Award (Blue Cap) and the MSA Award (Red Cap) in the Scottish Rite. After he became a 32 Degree Mason he was asked to join the Damascus Shriners in Webster. Jim served the Shrine as Recorder for several years. Within the Shrine he joined many clubs and units where he was President, Secretary and Treasurer of the Canandaigua Shrine Club, and Commander of the Damascus Legion of Honor. He also served as Commander of the New York Ontario Shrine Legion of Honor and he was an honorary member of the Livonia Fire Department. He received a plaque and a $500.00 check from the Hardees Restaurant chain through the International Association of Fairs and Expos for outstanding involvement in the (IAF&E.) Jim dedicated his life to volunteerism and serving others.
His true joy was his family, his wife Bev, son Dwight, and he adored his grandchildren Jacob and Margaret.
Friends and family may call on Saturday, July 11th, from 12noon-2pm at the Hemlock Fair Grounds (Jimís second home), 7370 Water Street, Hemlock, NY where his Memorial Service will be held at 2pm, following calling hours. Burial will follow at Union Cemetery, Livonia, NY with military honors. In lieu of flowers memorial contributions may be made in his memory to the Hemlock Fair Association, PO Box 263, Hemlock, NY 14466 or the Shriners Hospital for Children, 1645 West 8th Street, Erie, PA 16505.
To send a condolence or share a memory please visit: www.doughertyfuneralhomes.com
(585) 346-5401
*Please note, the fair grounds/event building will be operating at 25% capacity per state guidelines. The guidelines still require those in attendance adhere to the guidelines including those related to social distancing and face coverings.