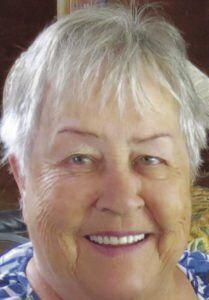 Honeoye: At age 83, Patricia passed away while on hospice at her home on July 29, 2022 surrounded by family. She was born on June 5, 1939 in Canandaigua, NY to the late Frank and Pauline (Harvey) Flood. In addition to her parents she was predeceased by her daughter Colleen Marie Jenks. She is survived by her husband of 66 years, Irwin "Irv" Jenks and children; Debby (Richard) Herendeen of Shortsville and Bret Jenks of Canandaigua; granddaughter Kelly (Joshua) Bowen of Shortsville; great-grandchildren Xavier Simmons, Jillian Bowen, Gabriel Bowen; brother, David Flood; nieces, nephews, cousins, brother/sister-in-laws and many friends.
She was kind, loving, smart, generous, witty, loyal, at times feisty and direct (sometimes too direct for some). She was very artistic, especially with her stained glass. She and her boss at Glass and Green were once commissioned to do a cornucopia lamp for Mark Hamill's (Luke Skywalker's) apartment in New York along with a lamp for his place in California. They also did 3 full size cars in stained glass for a Mercedes Dealership in Edison, New Jersey (Ray Catena Motor Cars).
She would want you to know that she lived a happy, long, memory filled life and to not carry any sadness in your heart for her. In keeping with Pat's wishes no formal funeral services will be held. Memorial contributions may be made in her memory to the Ontario Yates Hospice,
756 Pre-Emption Road, Geneva, NY 14456. 
To send a condolence or share a memory please visit:
www.doughertyfuneralhomes.com 229-2444