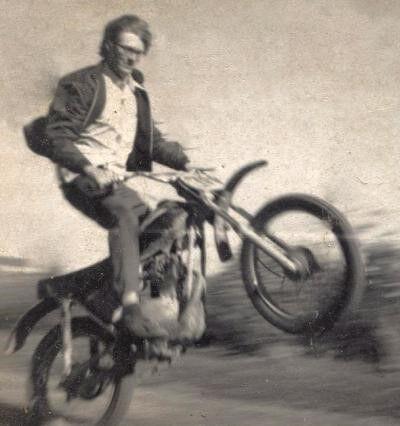 Tom had many friends. While growing up in Pittsford, you could find Tom down the street with his friend Mike. Mike was like a brother to him, especially since Tom was the only boy in a family of 5 girls. Burt, also a great friend, shared many good times with Tom. A special thank you to Burt who was there for him when Tom was battling cancer.
Tom loved his cars, trucks and motorcycles. The 1959 Chrysler Saratoga that Tom drove from Alabama was his pride and joy and he was going to restore it some day! Ford trucks (no Chevys) especially the "Beast". Tom certainly had a variety of trucks and cars parked on his property! Tom also loved his motorcycles, Triumphs Yamahas, and especially Goldwing motorcycles (don't even mention Harley Davidsons).Tom loved tinkering with motors and raced Go-Karts in which he won a several trophies - not bad for a guy who started racing Go-Karts in his 50s. Tom loved his cats and especially his dog, Foxy!
Tom, a self taught man, worked as a cable lineman down south and all over the eastern seaboard.
Tom is survived by his sisters, Rita, Kathy, Mary, Janet and Sue. Predeceased by Amelia and Thomas Olsen.
A celebration of life will be held August 21, 2022 starting at 1pm at Hopkins Point Lodge in Mendon Ponds Park. Anyone wishing to contribute pictures, thoughts or stories please visit the Fuller funeral home websit at www.fullerfh.com.