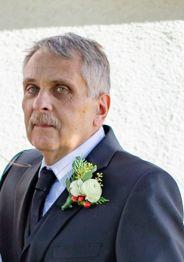 Avon: March 20, 2020 at age 63. He is survived by his loving wife of 38 years, Marilyn (Sattora) Hanna; children, Ryan Hanna, Cory Hanna (fiancé Amy Pink), Mackenzie (Phillip) Stickel; mother Antoinette Hanna; grandson, Nikolai Hanna; sisters, Mary Ann, Diane (Paul) Rager; uncle, Joseph Campanella; many nieces and nephews. Tom was predeceased by his father Merton Hanna; niece, Jenny Parsons.
Tom had a love and a passion for skiing, motorcycles and boating.
Service and interment were held at the convenience of the family. In lieu of flowers Memorials may be made to the Golisano Children's Hospital, Larry and Cindy Bloch Alumni and Advancement Center 300 East River Road, P.O. Box 278996 Rochester, NY 14627.
To share a memory or send a condolence visit stephensondoughertyfuneralhome.com or send a card to the families home.